Thanks to the generous (AND also customer obsessed) Dr. Ken Evoy over at SiteSell Inc. the famous "Make Your Knowledge Sell!" (MYKS!) Course Was Just Made Totally FREE! (click below to instantly download your copy today)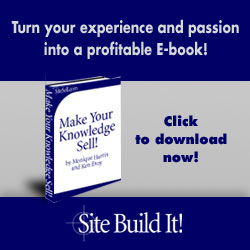 Since I was just about to purchase my own copy for the same price of $49.95 it has been briskly selling at for years, I was pleasantly surprised, to say the least, at the new lower (FREE!) sales price.


There's nothing like a high quality, best-of-breed freebie to brighten the day. And the deal of the day it surely is...


"Make Your Knowledge Sell!" really is the definitive guide on how to find the infoproduct within YOU. But not just that, it also shows you step-by-step exactly how to create, publish, market, and sell them too. All-in-one!


And that is my plan...to create a library of downloadable ebooks about subjects visitors to my primary SBI site have expressed a lot of interest in lately.
Some Examples I have been brainstorming for upcoming ebooks are:

Affordable Green Building Strategies

Sustainable Living Plans

Healthy Home courses and checklists

Guide to Safe Non-toxic Household Chemical Alternatives

Green Household Products Guide

Eco-friendly Renovation Ideas

Emmerging Healthy Home Technology Directory

Clean Energy Guide for Homeowners

Those ideas just happen to be in my niche and area of expertise. So What's YOUR niche?


Each of us lives a life of unique circumstances and experiences that results in building a body of knowledge... knowledge that has value and that can be packaged and sold to others. MYKS! will help you unlock the value in what YOU know too.


Download a copy of MYKS! for yourself today and make your knowledge sell too.


....oh and don't forget to thank Dr. Evoy for this life-changing gift.....